If you go go into the accessibility settings you can toggle sprint and shift so they can just be clicked, but there is a mod called "better sprinting" I'll provide a link in a few minutes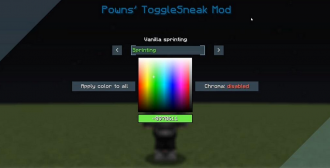 craft
Features:
Sprint (hold) key which allows you to sprint
Sprint (toggle) key which when pressed, toggles between sprinting and walking
Sneak (toggle) key which when pressed, toggles sneaking
Sprint menu key to quickly access Better Sprinting settings ingame (default: O)
Option to turn on/off double tapping W
Flying boost when sprinting while flying in creative mode*
Option to enable or disable sprinting in all directions*
Option to disable mod's functionalities (you can turn off the mod if a server doesn't allow it)
Compatibility with many popular mods, such as Forge, Optifine and SPC
The mod can also be installed on a server, and the /bettersprinting admin command lets you enable special features or automatically disable the mod on client-side when people join
How to install Toggle Sprint Mod With Forge
Make sure you have Minecraft Forge
If not, Download and Install the latest version of
Minecraft Forge
Download Toggle Sprint Mod file from link(s) below/above
On PC Windows, Go to the Start menu
Type:
%appdata%/.minecraft
Press Enter to Run
%appdata%/.minecraft
On MacOS open finder, hold down ALT and click Go then Library in the top menu bar. Open the folder Application Support and look for Minecraft.
Go to minecraft/modsfolder
If Mods folder does not exist, create one
Put Toggle Sprint Mod file into the mods folder
Launch Minecraft using Forge Profile, then Open Menu
Enjoy!
Download Mod :
toggle sprint mod 1.8.9